Roasted Strawberry Parfaits
Roasting the strawberries in this parfait recipe brings out their natural amazing flavor and creates a luxurious syrup while still maintaining a firm texture. This is a natural snack at it's best — perfect for young and old alike.
What you'll need
2 cups fresh strawberries, quartered
1 tablespoon brown sugar
2 cups plain greek yogurt
2 tablespoons honey
1/2 cup granola
mint for garnish, optional
Notes: makes 4 – 8 ounce servings
How to make it
Preheat oven to 425°F. In a medium bowl, combine strawberries and brown sugar. Pour the strawberries on a parchment paper lined baking sheet. Place in the oven and roast for 12 to 15 minutes until the strawberries start to release their juices but are still firm. Carefully pour the roasted strawberries and their juice into a bowl and set aside until needed.
Mix yogurt and honey in a medium bowl and stir until combined.
In 8 ounce glasses or parfait cups, assemble the parfaits by adding a layer of yogurt to the bottom of the glass. Next add a few spoonfuls of the strawberries on top of the yogurt and then add a spoonful of granola on top of the strawberries. Repeat layers until the serving glasses are full. Top the parfaits with a spoonful of strawberries and a sprinkle of granola. Place a sprig of mint for garnish, optional.
Source: hallomall.com
Creative Wall Clocks
I spend plenty of time and energy decorating my house. It is always fascinating to see miscellaneous and creative stuff in a shopping center. It feels like walking into a huge candy store like a carboholic.  I just want my house look fashionable and extraordinary. When you get tired of wandering in shopping malls and department stores, there is always another good choice-online shopping. The magic thing is, you can always find what you want on the Internet. I was expecting to find a special clock for my living room this morning. Then, I saw this clock. If you are also a big fan of The Big Bang Theory like me, you may be attracted by this clock soon. This is what Sheldon Cooper may choose! The Thermoprint Mathematics Concept Wall Clock is definitely made for those science geeks and people who may want to look smart and unique.
Thermoprint Mathematics Concept Wall Clock
Then, I found an elegant clock for young ladies-the Individual Art Butterfly Quartz Wall Clock. Its stainless steel shell, resin back cover and glass dial makes it look delicate and elegant. There are several colors available: emerald green, lake blue, storm beige, and neoclassical rose. I prefer the lake blue one because it goes perfectly with my living room.
Individual Art Butterfly Quartz Wall Clock
There's another clock I may not choose, but I'll save it for my friend, Ricky. I guess he will love this creative felt wall clock, which looks smart and personalized. There is no number on the dial, but it indicates daily routines, functioning as a "biological clock".
Creative Felt Wall Clock For Living Room
Want to find more fashionable and personalized stuff?Just visit www. hallomall.com and get yourself something really great!
Up, up and away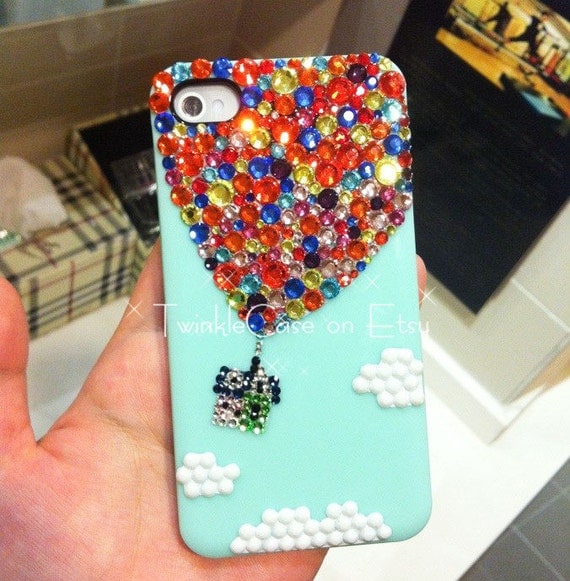 Up, up and away! Your style will take off and soar when you dress up your iPhone in our Original Balloon Crystal Bling Bling Phone Case. This beautiful case not only keeps your phone protected everywhere it goes, but it also keeps it blinged out in an array of beautiful rhinestones.
Inspired by the concept of the movie "Up," this colorful phone case shows a house being lifted by the ground by a sea of colored balloons. We use only the finest quality rhinestones, which we have handpicked to include in our design. The rhinestones are affixed to a sturdy PVC case, which is aqua blue in color to resemble the sky. White clouds finish off the design and add to the feeling of flying.
Our Original Balloon Crystal Bling Bling Phone Case is designed to fit Samsung, iPhone 4S and iPhone 5 smart phone models. We can also craft our smart phone cases to fit other cell phones upon request. Please contact us for more information.